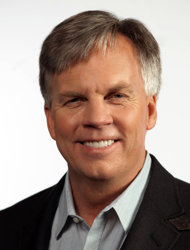 I really like Ron Johnson! Ron Johnson is the new CEO of the 110-year-old J. C. Penny chain. He's an atypical CEO. That really appeals to me as an entrepreneur and small business owner. As entrepreneurs, we travel to the beat of a different drum. We're often labeled "rebels" and "renegades" – like if it's a bad thing. It's not always easy being an entrepreneur in a business world that applauds conformity. And, to that point, entrepreneurs can always benefit from a healthy dose of inspiration which is what I found in a recent AP article by Anne D'Innocenzio, J.C. Penny CEO tries to change the way we shop.
The gigantic task of reinventing J. C. Penny's wasn't Ron Johnson's first rodeo. Johnson has a strong track record of success when it comes to innovation. He was the brains that made Target hip with its "cheap chic", and Apple's stores and their Genius Bar's even hipper at a time when Dell store fronts were closing like tents in a rainstorm.
What lessons can entrepreneurs learn from Ron Johnson? Here are just a few:
1. Have a vision that sparks enthusiasm – and make sure it's yours!
Ron's story: Despite the naysayers and critics, Ron Johnson maintains his "boyish enthusiasm" for his vision. "Lots of people think we're crazy. But that's what it takes to get ahead." Well said, Mr. Johnson!
Consideration: Have you heard it said that if you fail to set your own vision, someone sets it for you? Well, it's true. If you haven't considered what you want the future of your small business to look like, it's easy to get caught up in a course sparked by someone else's vision and enthusiasm. Your vision must be your own. It's what inspires and carries you through those tough times that all entrepreneurs face.
2. Take time for reflection and renewal.
Ron's story: For a period before becoming CEO, Ron traveled across the globe in search of ideas to transform J.C. Penny's.
Consideration: Innovative, transformative ideas require space and time to bubble to the surface of your consciousness. Although you may not be able to escape your day-to-day routine for an extended period, consider scheduling a 3-day weekend retreat every quarter to rejuvenate your brain cells and revitalize those ground-breaking ideas.
3. Look for innovation in unlikely sources – outside yourself.
Ron's story: While traveling the globe, Ron visited with cool and stylish designers and retailers. Although meeting with others in the apparel industry may be viewed as an unlikely source, he didn't really solely on his own brilliance for reinventing J.C. Penny.
Consideration: It's easy for entrepreneurs to become blinded by their own genius and ingenuity. Sourcing new and novel ideas from unusual and unexpected resources can net you some unique inspiration. Go for a hike. Take an improv class. Run a marathon. Enroll in an art class. Be amazed by your discoveries.
4. When you've made a mistake, admit it early and move on.
Ron's story: Brilliant as he is, some of his ideas blew up in his face. Rather than stubbornly hold on to what he thought would be astonishingly successful strategies, Ron quickly admitted he blew it and made the necessary course corrections.
Consideration: Learn from Ron. Admit mistakes early and often and keep moving.
5. Don't panic.
Ron's story: Despite stock losses, comments from nervous investors, lack-luster sales from fickle customers, and cynicism from investors, Ron remained steadfast and unflinching in the enthusiastic pursuit of his vision.
Consideration: See point 1. When you have a vision you believe in, nothing can deter you from your success. How you get there may change but your vision remains the same.
6. Learn. Adapt. Move forward.
Ron's story: Despite the beating Ron's newly implemented strategies were taking, he viewed the failings as an opportunity to learn, adapt, and continue to move forward.
Consideration: Entrepreneurs fail forward to success. Without failure, there is no success. Learn to view failure – not as a personal reflection of you and/or your abilities – but rather as the learning one needs to discover what will and will not work.
Before reading the AP article, I had no idea who Ron Johnson was. Now he's my new hero. I want to learn from and be like Ron – enthusiastically steadfast in the pursuit of my vision. Are you inspired by Ron's story? Or, do you have someone you learn from and source your inspiration?