Baby Boomers are one of five generations you're likely to have in your small business—alongside the Traditionalists, Generation X, Generation Y, and Generation Z employees. Catering to all of these generations isn't easy; it requires you to tailor your policies and management practices to suit the needs of each group. Baby Boomers, who are likely in leadership roles within your company, aren't retiring just yet. It's in your best interest to accommodate their needs just as much as the younger generations.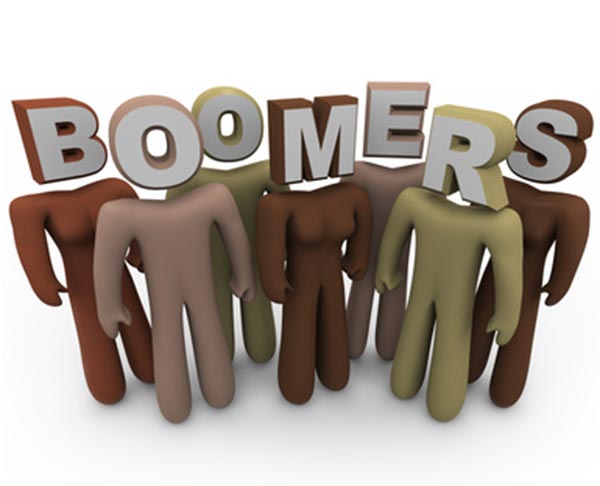 Who Are the Baby Boomers?
Baby Boomers, born between 1946 and 1964, are the largest living generation and most likely dominate the higher-level positions in your small business. Common traits of Baby Boomers include being:
Work-centric: By and large, they're workaholics who define themselves by their professional accomplishments. They believe younger generations should pay their dues, and may criticize them for a lack of work ethic and commitment to the company.
Goal-oriented: Baby Boomers thrive on achievements, are dedicated to the company for which they work, and are extremely focused on getting ahead in their careers. They want to know they're making a difference and like to take on challenging projects.
Independent: Baby Boomers are confident and self-reliant. After growing up in an era of reform where they questioned authority systems, they welcome confrontation and don't shy away from challenging established practices within the company.
Competitive: Since they equate their self-worth with their position and work accomplishments, competition is high among Baby Boomers. They believe in a hierarchical structure, and may fault younger generations for trends towards workplace flexibility.
Baby Boomers are similar to Traditionalists because they believe in hierarchal structure and rankism, and may have a hard time adjusting to workplace flexibility trends. The idea of change is not easily accepted. If there's already an established system that appears to be working, you'll find Baby Boomers very reluctant to change it. They value "face time" and frown upon the "work from anywhere" mentality of younger workers.
Ultimately, your Baby Boomer employees take their careers very seriously. After all, the position they're in right now is likely the one in which they'll retire.
What Baby Boomers Expect From Management
Baby Boomers expect respect—not only for their work, but for their personal lives as well. Your Baby Boomer employees also treasure tenure. They expect you to show some level of respect for those who have worked for the company for an extended period of time.
Your Baby Boomers value recognition above all else. When they're recognized for their contributions to your company, they feel valued and appreciated and will work even harder for your company.
Tips to Manage Baby Boomers
Managing Baby Boomers is similar to Traditionalists in the way that they both put significant value in their jobs. They're both dedicated to their work and are willing to sacrifice their personal lives to succeed professionally. Tap into the talents of the baby boomers in your small business by:
Recognizing their professional achievements personally as well as publicly.
Listening to a Baby Boomer employee's ideas and suggestions. Show them that you appreciate their individual contribution to the company, embrace their ideas, and implement them if you can.
Understanding their state of mind. Baby Boomers suffer from a conflict. They struggle to compete as individuals, but also strive to be an integral component of the team. Show your appreciation for their work in both aspects so that they don't have mixed feelings or feel as though they must sacrifice one or the other to succeed.
Baby Boomer Attributes
Confidence in tasks
Emphasize team-building
Seek collaborative, group decision-making
Avoid conflict
Adaptive
Goal-oriented
Focus on individual choices and freedom
Since your Baby Boomer employees likely handle most of your higher-level operations—or oversee a majority of your staff—it's imperative that you manage them effectively. Keeping them happy needs to be a priority, as high turnover of your senior positions will have a detrimental impact on your business.
Learn more about reducing turnover for all generations of your workforce by getting your copy of Practical Tools to Manage Costly Employee Turnover today.

This article first appeared at M.J. Management Solutions, Inc.
---
MJ Management Solutions, Inc., is a human resources consulting firm that provides small businesses with a wide range of virtual and onsite HR solutions to meet their immediate and long-term needs. From ensuring legal compliance to writing customized employee handbooks to conducting sexual harassment training, businesses depend on our expertise and cost-effective human resources services to help them thrive.