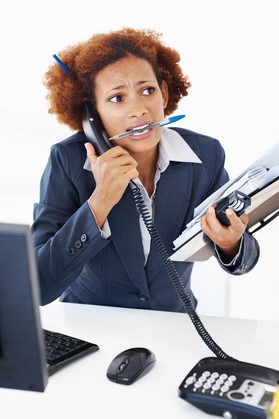 For many small business owners, trying to please everyone is a recipe for disaster. As Bill Cosby said, "I don't know the key to success, but the key to failure is trying to please everybody."
People pleasing, also called "over-responding," is easily confused with customer service. In some situations, over-responding is a required action to remedy a client situation. For most circumstances, however, it's a knee jerk reaction – a compulsive response – that puts the needs of others before your own.
A "Yes" Waiting to Happen
My very first coach made a keen observation of my behavior early in our coaching relationship. As she put it, I was "a 'yes' waiting to happen." She was right. I was in a continual state of pleasing others. I put the needs of others before my own. And, in my role as a strategic business coach, I'm not alone. People pleasing is a common reality, especially among women business owners.
When the desire to please others dominates your business, it's not pretty. It pulls you off course, causes unnecessary distractions and interruptions, and leads to the neglect of critical business development activities. Eventually, business growth suffers.
Hidden Cost of People Pleasing
There's a huge price to pay when business is driven by people pleasing.  From underearning to burnout to working extended hours, people pleasing leads to a lack of motivation, billing errors, waste, poor processes, and worst of all, owner frustration. Do you want me to continue?
Every frustrated, burned out small business owner knows only too well how many opportunities are missed in the pursuit of pleasing others.
Me First
Are you ready to overcome your drive to please others? Here's how you can make that happen today!
1. Determine "me" time is valuable.  Needless to say, it's mentally challenging to make yourself a priority – unless, and until, you decide your needs, and those of your business, are equally as important as the needs of others.
2. Overcome the "selfish" feeling. Once you decide that your needs are just as valuable as others, the fear of appearing "selfish" can throw a wet blanket on the best of intentions.  "You don't do it at other people's expense," Dr. Phil states matter-of-factly. "For you to take care of you– to nurture your mind, to nurture your body, to nurture your spirit — why does that have to be at [others'] expense?" Good point, Dr. Phil.
3. Schedule "me" time each week. This can be time for exercise, lunch away from your desk, business development and growth activities, or all of the above. If you have adopted a weekly ongoing planning process, the start of each week will have clearly defined "appointments" allocated for activities that move you and your business forward.
4. Respond appropriately to client requests.  What may appear to be someone else's "emergency" doesn't have to become your own. With time allocated to critical, forward-movement, business growth activities, it's much easier to take action to meet the needs of others – and make sure your needs are met, too.
Who pays the biggest price for people pleasing? You do! Even though putting your needs first feels odd and you feel guilty, try it for 3 months. You may be surprised by how much more you're able to give to yourself – and others.
Related Blog Posts:
Five Ways to Use Personal Power for Business Growth
Got a Boat to Burn in Your Small Business? I've Got a Match!
Getting Past Your Fears and Growing a Successful Business
How Your Mindset Sparks Business Success 
The Art of the Ask: How to Ask For and Get What You Want in Business