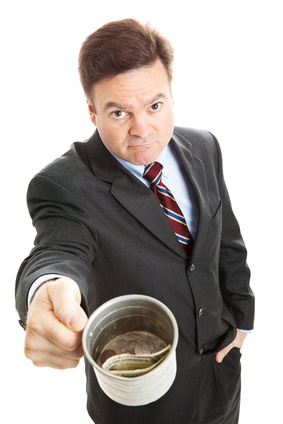 Asking a fair and reasonable price for business services sometimes feels risky for small business entrepreneurs. Whether it's the fear that no one will buy, a lack of belief in oneself, or a not having the pricing know-how, small business owners frequently price their services below market value and suffer the penalty of underearning.
Prior to launching my coaching practice, I spent 25 years in sales. It provided excellent training for understanding how and why people buy. One of the most important bits of wisdom I learned was that prospects have two imaginary buttons in their head – one button is labeled "price" and the other button is marked "value". When your prospect realizes how the value of your services outweighs the price of your services, they seldom shy away from a fair price.
Properly pricing your products and services begins with clearly understanding your value. The two tools that help discover the significance your business services provide are your marketing persona and your key benefits.
A marketing persona is a fictional characterization of your ideal client. Your marketing persona helps identify what is most important to your ideal client. It helps you speak directly, distinctly, and more confidently, to their needs.
Well-defined features and benefits differentiate your service in the marketplace. Features are aspects of your service that are tangible, factual, identifiable, and are of greater importance to you. Features lead to benefits. Benefits are more important to the buyer. They create emotion, incite passion, solve problems, and enhance results. Benefits are what and why customers buy. Make sure the benefits of your business service are in sync with what your ideal client values.
Understanding your value helps institute an appropriate pricing strategy for your business – one that creates a win-win for you and your client. You'll be surprised how easily clients will accept your price when they realize that it's a fair exchange for the value you provide.
Related Blog Posts:
Common Pricing Mistakes to Avoid
The Small Business Pricing Conundrum: Underpricing