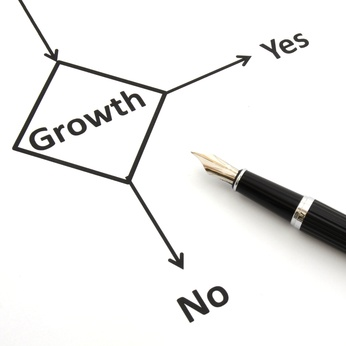 Imagine my intrigue when I read an article of a business that intentionally avoided growth as a company objective. That comes as a surprise to most entrepreneurs. It's hard to fathom, isn't it?  Could a business actually exist without a primary objective of growth?  In spite of conventional wisdom, some businesses who are adopting the ungrowth growth strategy are experiencing stunning business growth that is the envy of any of their competitors!
Vibram, for instance, is likely the best brand you've never heard of.  Although not immediately familiar, you may have seen your friends sporting their product. (The first time I saw my friend wearing these rather unusual-looking "gloves" on his feet, I wasn't sure what to think – other than something horrible happened when he got dressed that morning.)  Have you seen the ones I'm talking about?  They really are gloves for the feet, with a finger for each toe. They look like the feet part of a gorilla costume or a frog and those who wear them say they feel incredible. This is the signature sporting shoe called Five Fingers manufactured by Vibram.
To the folks at Vibram, the originator of the Five Finger sporting footwear, growth is not on their radar screen.  General Manager Adriano Zuccala explains: "The real mission of the company is to maintain reputation.  We are not stressed by a quarterly review. We are stressed by reputation. Our vision is to grow but by developing products that sell through their high quality…The preservation of the brand is essential." The Vibram brand mantra is brand: quality: innovation.  Not scale.  By applying the ungrowth strategy, they are experiencing triple digit growth.
And there's Reddit, a social news website, purchased by Conde Nast. Conde Nast could have squeezed the life right of this innovative, unorthodox news website but they chose to leave it alone – or it could have been sheer neglect – and it continued to grow beyond their wildest imagination. Undoubtedly, the notion of ungrowth makes for a jarring juxtaposition.
Could ungrowth be the new growth strategy for your business?  Inquiring minds want to know!
Related Blog Posts:
Is it Time to Rethink Your Business Growth?
Small Business Ideas for Business Growth: Minnovation
Strategic Coach Uses Drafting to Accelerate Business Growth
30 Ways for Entrepreneurs to Grow Their Business