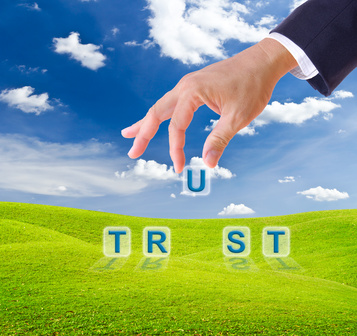 As an entrepreneur, it's likely you've "sensed" when an aspect of your business was not working well. Something was off.  You may not have been able to put your finger on it but, one thing was certain, it created a sticking point for your business. Whether it was a marketing tool, a client, an event, a group membership…your gut was speaking to you, telling you something wasn't fitting as well as it could. Unfortunately, the importance of trusting your gut isn't a strategy you'll find in many business schools. Yet, it's one of the most effective tools in a successful business.
As a strategic coach, I've work with entrepreneurs who resist trusting their intuition. Why? In most cases, it's because "conventional wisdom" speaks contrary to their gut. As a result, they continue to struggle against their inner knower rather than fully trust themselves. This can really slow down the speed at which a business grows.
We talk about developing trust with our clients. In fact, an earlier post, Nine Steps to Building Trust Online & Offline, outlines the steps you can take, as an entrepreneur, to build trust and credibility with your target audience. However, we don't speak enough about the actions you can take to develop the kind of trust that endures – that of trusting yourself.
The steps to developing inner trust are actually easy – do more of it.  The execution is not because of the perceived "risk" involved with making gut decisions. Trusting your gut is actually allot like skydiving. The more you do it, the better you get.