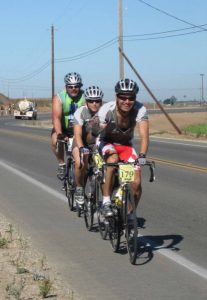 A few years ago, I participated in the Amgen California Coast Classic. The bike ride began in San Francisco and ended in Los Angeles.   I know what you're thinking! What sane person rides 525 miles in 8 days – on purpose?  Besides it being a fundraiser for the Arthritis Foundation, it was a fun and exciting personal challenge. Although I'm not Lance Armstrong, I did employ a technique used by professional cyclists to improve my performance – drafting.
Believe it or not, this is the same principle used to accelerate business growth. A strategic coach reduces drag, blocks the head winds of resistance, shares in the workload, and improves performance.  In fact, the faster your business is growing – or the faster you want to grow – the more important it is for you to engage a strategic coach with whom you can draft.
Wikipedia defines drafting as a "technique where moving objects align in a close group reducing the overall effect of drag." Most commonly used in cycling, car racing, and speed skating, drafting is also found in nature as demonstrated by a flock of geese flying in "V" formation.  Besides significantly reducing the energy required to maintain a certain speed (some experts say as much as 40%), drafting actually pushes you forward.
It's time for entrepreneurs to capitalize on what cyclist, speed skaters, and geese have known for some time –drafting improves performance.