I know all the stats….companies that blog 15x or more per month get 5x more traffic than those who don't blog. Businesses that increase the number of blog posts from 3-5x per month to 6-8x per month, double their leads. When the TOTAL number of blogs on a site grows from 20 to 50, traffic increases by 45%; spike the TOTAL blog posts past 100 and you'll see a 59% upturn in traffic. Those are the results I wanted yet I limped along at my blog-a-week pace…and it was brutal.
bite-size-chunks-wisdom1-resized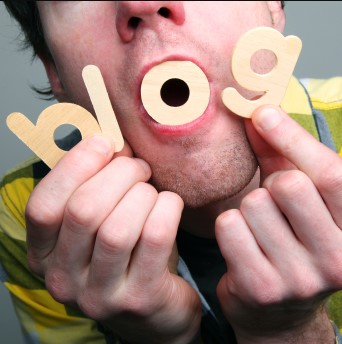 Blogging was agonizing, painful, time-consuming, and stressful. Even at my rapid-fire writing pace (said with tongue in cheek), I was uncertain what I would write. What did I possibly have to say that would fill 30 blog posts? Anxiety over topics, and the fact that it took 4 hours to write a 500-word blog post was enough to send me to the snack drawer!
Then, Hubspot issued a 30-day blogging challenge….
Behind the Blog
My interest in inbound marketing, of which blogging is a tool, began in 2009 when I read Inbound Marketing by Brian Halligan, Dharmah Shah, and David Meerman Scott. By that time, a seismic shift was occurring in my own marketing approach.
Traditional outbound marketing tools such as email blasts, advertising, direct mail, and cold calls were becoming a source of irritation. These tools, aptly called "interruption marketing", were doing just that — interrupting my workflow — and it was annoying.
Even face-to-face networking was getting on my nerves. Besides time consuming, if I had to listen to one more person robotically recite their web page rather than speak to me like a real person, I was going to lose my mind! If outbound marketing tactics, those that "push" your message to the consumer, were maddening to me, were they equally aggravating to others?
At the same time as my growing irritation of outbound marketing tactics, buyer behaviors were changing. Buyers wanted to buy but they didn't want to be sold. They turned to the web in record numbers to find, research, and buy what they wanted at the time they wanted it. In fact, a recent study revealed that nearly all consumers (97%) now research online for products/services.
In addition to capitalizing on buying trends, inbound marketing made sense to me as a small business owner. I could leverage my time and expertise. I didn't need to "be there" to generate leads. Inbound marketing was my 24/7 sales team.
Blogging Results Communicate Volumes
Why I accepted the 30-day blogging challenge, I'll never be entirely certain. Granted, I'll never be like Scott Siders and his Content Marketing Program but blogging is less stressful. The time it takes to write a post has dramatically reduced. The practice of daily writing honed my process. And, I discovered the best time to write. I actually enjoy blogging.
Did I question my commitment during the 30-day challenge? You bet! But, when website traffic and leads began their upward march I was incentivized to continue.
When the dust of the 30-day blogging challenge settled, here's what transpired:
Website visits increased 101%
Unique visits climbed by 86%
Number of page visits went from 2.11 to 4.48
Time spent on the site rose from 2:16 to 3:08
Bounce rate dropped 8%
Returning visitors increase 7%
Blog subscribers increased 27%
Number of leads generated increased 150%
What can I say? I could dream about results like this for 30 days or I could take action, challenge myself, and generate results like this in 30 days. I'm glad I chose the later.
Do you want results like this? Contact us. We're happy to help you craft the inbound marketing strategy best for your business.