Like any small business owner, you accepted the challenge of business ownership. Bravo! You knew you were in for a wild ride, but little did you know how your decisions could drive or derail your goals.
There's little room for error in a small business.
Unlike larger, better capitalized businesses, we start with bootstraps (for pulling ourselves up) and a prayer (for getting out of jams). We parlay our passion, experience, and crafty chops into a business that makes Mom proud.
Our desire to grow is strong. Our determination is unparalleled. Our enthusiasm is contagious. Our belief — although wavering at times — remains steadfast.
Then, what's the problem?
WE FORGOT TO SELECT A STRATEGY! Whoopsie.
Whether it's a strategy for growth, content, social media, marketing, or sales — it's completely MIA (missing in action). And, it leaves an indelible mark.
Understanding Business Strategy
Strategy is important for a variety of reasons. It helps us make decisions. It aligns our vision with our goals. It prevents us from making choices that pull us off course and take us down a rabbit hole in search of Alice in Wonderland. It helps us filter opportunities and risk.
It's a good thing to have!
Minus a strategy, we become a wandering generality. We struggle. With a lack of congruency between our action and our intentions, building momentum and gaining traction makes it difficult to pop our head above the clouds.
All one needs to do is google "business strategy" to learn of senior executives around the world who claim to lack certainty in identifying a winning strategy. Is it any wonder we struggle? If global executives tussle with strategy, we don't stand a chance!
Could it be strategy is missing because we don't understand how to create a strategy that works? If that's the case, you're not alone.
Choose Your Weapon
Frankly, all the google-speak around innovation strategy, capabilities-driven strategy, merger and acquisition strategy, etc., etc. makes my head spin.
For the sake of small business, we just need a little nudge to get us moving in the right direction of finding the best strategy that makes business less of a daily burden.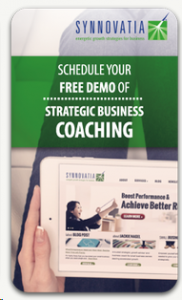 Pour yourself a cup of coffee and pull up a chair as you consider your response to these questions:
How will the business be built and managed?
How will you capitalize on market opportunities?
How will you solve critical problems?
Will the strategy you're considering result in growth and profitability?
Is your strategy easy to understand?
Does it align with your vision and mission?
Does it serve the test of time?
There you have it. That wasn't so bad, was it. Realizing the answers to these tightly-woven questions designs your decision-making tool — your samurai sword — to slay the enemies that thwart your progress.
Advanced Adventure into Strategy
In the event you're feeling audacious and are ready for a deeper dive into strategy, feel free to download our handy dandy worksheet.
Be prepared! It does require time (10–12 hours) and brain cells.
If you want to dial in your business strategy as best as you can, here's my suggested approach.
Download the worksheet
Set aside one hour per day for the next two weeks.
Don't tackle it all at once. It can be overwhelming and gets in the way of thinking as clearly as needed for this exercise.
When your assigned appointment time arrives, resist the temptation to cancel on yourself. Set your timer and dig in. Tackle one piece of the puzzle at a time.
At the conclusion of the two weeks, you'll have your business strategy dialed in. It will be much easier to keep your business on track and moving forward as you begin to employ your strategy.
In the words of the famous philosopher, John Mayer, "If you had started doing anything two weeks ago, by today you would have been two weeks better at it."
Ready to begin?